Senior Housing for Minneapolis & St. Paul
Listings for adult day care and hospice in Minneapolis & St. Paul
What are the Senior Directories? The three Directories, Senior Housing, Home Care & Hospice and Resources for Seniors, have subcategories which list services and businesses pertaining to them.
---
---
---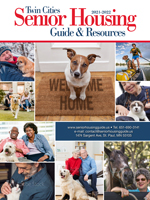 Request Printed Guide
Recent Stories & Articles
The Runaway Travel Adventure
By ROLAND MINDA THE RUNAWAY TRAVEL ADVENTURE Part One  How It Began. This blog is a cautionary tale how a seemingly innocuous round  trip to New York City and back to Minneapolis  turned  into a multi-week odyssey: an across-the-Atlantic voyage on the Queen Mary 2 to Southampton, and then by train  to several of the […]
Read More
The Joy of Naps
The Joy of Naps By ROLAND MINDA | Published: APRIL 1, 2012 I have been a dedicated napper since I was a high school teenager where I first discovered the joy  of study class  repose  . Yes, many medical studies currently show that naps improve cognition response time and overall good health, but I never […]
Read More
Comes Mid-Summer, When Out-of-Town Kin or Friends Arrive — What To Do With Them!
Comes Mid-Summer, When Out-of-Town Kin or Friends Arrive — What To Do With Them! By ROLAND MINDA | Published: JULY 12, 2013  MY TRIED AND TRUE CHOICES First—how this list came about: For about 10 years–2000 to 2010–I produced and hosted a local interview TV show called "Strictly Seniors." To keep it lively, I had […]
Read More
---