I No Longer have to Work
I No Longer have to Work–How About You?
 Snapshot: You are in your mid- 60's, in reasonably good health and like the majority of your age peers don't go to work on a daily basis. According to insurance actuarial tables, on average you have approximately one third of your adult life still remaining. This is most encouraging news because in all likelihood you can anticipate living another twenty to twenty five years.
However, now is the time to consider this question: how do you plan to maximize these potentially fulfilling years and decades? When you worked, you had to fit in the rest of your life; work was the dominant feature. Suddenly, you have time to decide on the many choices at your disposal.
That was my dilemma some years back. For too many years I operated a downtown Minneapolis public relations firm. About midway through this deadline-oriented slog, my wife joined me. She decidedly enhanced our business affairs, so much so that with a much improved bottom line we were able to sell our agency to a national public relations firm. Huzzah!
But what was our next rite of passage?  My wife loves to travel and is an excellent writer, so she morphed into a successful travel writing career. For me, after forty plus years of the nine-to-five schedule, I knew my departure from the agency business absolutely required some new routine, less taxing to be sure, but an ongoing activity.
Fortunately my PR work had put me into regular contact with local TV stations. And I had noted that none of the stations had any regular shows of
senior interest. So I put together a weekly, half hour interview TV show called "Strictly Seniors", which aired on Channel 6, Metro Cable Network, in Minneapolis.. For ten years I interviewed hundreds of guests who had some special knowledge that could be of interest to seniors. Finally, in 2010, at age 85, deciding to indulge myself in a bit of sloth, I said farewell to Channel 6, and I am now a regular guest on the KARE 11's morning show, called "KARE 11 Today", with hosts Diana Pierce and Pat Evans. Kare 11 is the NBC station in the Twin Cities.
What did I learn from these experts that I might pass along? Certainly, I absorbed plenty of factual material while discussing many diverse subjects. But this article is not a senior review course. Instead, here are a few general suggestions some of my interviewees covered. They are mostly common sense but none-the-less are often neglected
1.  Adjust to your new priorities: Most of us spend much of our working lives with  workplace  pressures and deadlines.  These have now disappeared, so it's important to establish some current guidelines and activities. I remember one interviewee, who gives courses on retirement training, said that adjusting to retirement has been more of a problem for men, but today women of a two job family are unfortunately catching up. In either case, the challenge is to decide what you really would like to accomplish for your future years.
2. Regular Exercise: I agree this is hardly an original suggestion.  But the fact is only 20%   of seniors carry out a consistent exercise program. The media is saturated with stories of health benefits. Not only will you be healthier but there is plenty of evidence you will live substantially longer.
3. Volunteering; Volunteerism attracts the largest number of seniors. There are so many organizations seeking volunteers that it boggles the mind. Whatever your choice you will find satisfaction in your volunteer accomplishments.
4. Travel: For many years we drove   around Europe. Now we are quite content to do it an easier way— on cruise ships. And these days what bargains! The cruising industry   is overbuilt, so it is a buyers' market. If you are alone that's no problem because group tours provide plenty of companions.
5. Staying in touch with family and friends: Our kids all live away, so a travel priority is to visit their homes and enjoy our grand-kids. I also like to have lunch with friends. It is a good way not to feel your age, since they are probably your own age.
6.  Here is one "Do Not" suggestion: Avoid too much television. I have a batch of statistics which prove that senior TV watching is by far the most popular daily activity, (or inactivity). Seniors average four to five hours daily watching TV, compared to averaging one hour per day reading. Yes, I am a TV host type; I am only suggesting you be selective.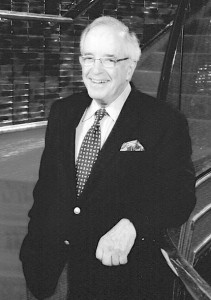 Here is my final thought. I am writing a weekly blog and you can read it on my website: www.retirement-dance.com.  The subject matter is a quixotic mix, but it does relate to senior joys, triumphs, concerns and activities. Please take a look.