Michelle Larson and Renee Zugeschwert, Counselor Realty, Premier Home Team
Reltors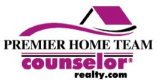 Location:

3580 Linden Avenue
White Bear Lake, MN 55110
---
Providing:
Moving & Downsizing
Realtors
Hours & Rates:
Flexible Hours
Languages Spoken:
About Michelle Larson and Renee Zugeschwert, Counselor Realty, Premier Home Team
PERFORMANCES NOT PROMISES
Exceptional real estate service requires knowledge, commitment, creativity and a true appreciation for the client's point of view. Those qualities – and many others – have made Michelle Larson and Renee Zugeschwert, The Premier Home Team, an extraordinary asset to Twin Cities sellers and buyers. With 34+ years of experience, they are extremely knowledgeable with regards to the unique features that make the Twin Cities neighborhoods so desirable.
Their dedication, compassion, research skills and efficiency are strong assets in helping clients achieve their goals. They feel the most important quality, however, is  ability to listen, and intuitiveness in reading people's needs. As an energetic and enthusiastic agents, Michelle and Renee are  ready to get to work to find your dream home or sell your current property. Understanding clients and their unique goals is the best way to focus efforts on the most effective course of action.
Ms. Larson has been awarded in the Mpls/St. Paul Magazine and Twin Cities Business best for facilitating the home buying process based on client satisfaction for 9 years and running.
Michelle and Renee are committed to helping clients achieve their dreams with PERFORMANCES NOT PROMISES. Their referral business and repeat clients create relationships for life. Call us at 612-751-9303.
---
Michelle Larson and Renee Zugeschwert, Counselor Realty, Premier Home Team

Reltors

3580 Linden Avenue
White Bear Lake, MN 55110