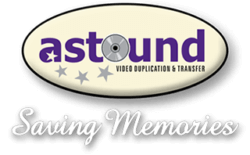 About Astound Video Duplication and Transfer
At Atsound Video We Preserve Your Film, Photos and Video
Conversion of media (film/tapes/audio/slides and photos) to DVD or digital
Thinking of moving and downsizing can be a daunting task. Most of us have years and years of accumulated stuff in our homes.  A couple of the things that take up  a lot of space, but do not need to are  slides and film. Slides and film can be transferred to a compact disc that is about 5 x 5 inches and a of an  1/4 inch tall. The disc is not only small, but easier to store and watch than slides and film; all you do is turn on your television and pop the disc into the DVD player.  Babies first steps, summer vacations, graduations, memories you don't want to fade. Now you can take all those memories with you by transferring them to a DVD.
At Astound Video Duplication and Transfer we transfer your old film, video, images and audio recordings to DVD or digital files to preserve your precious memories for generations to come.
For over 18 years we have served customers across town and across the country, corporate archives and shoebox archives. Over 20,000 customers have entrusted their births, birthdays, Christmases and weddings to us.
With years of hard work, a commitment to constant improvement, and ongoing investments in the latest technologies, we have built a reputation as Minnesota's leading media transfer company.
So whatever you have, we're ready to preserve it. Dig it out of that shoebox in the closet or trunk in the attic, bring it in to one of our five convenient metro locations:  St. Paul, Minneapolis, Coon Rapids, Apple Valley and Roseville. We'll treat it as if it were our own, putting our years of expertise to work to ensure that your memories are preserved for generations to come.
Give us a call today at 612-278-6863 or call one of our convenient locations!
Astound Saint Paul
437 Cleveland Ave. S.
Saint Paul, MN 55105
(651) 644-2412
[email protected]
Open M-F 9AM to 5:30PM
Saturday 10AM to 2PM
Astound Minneapolis
614 West 54th Street
Minneapolis, MN 55419
(612) 455-2399
[email protected]
Open M-F 9AM to 5:30PM
Saturday 10AM to 2PM
Astound Roseville
2167 Lexington Ave. N.
Roseville, MN 55113
(651) 455-2399
[email protected]
Open M-F 9AM to 5:30PM
Saturday 10AM to 2PM
Astound Apple Valley
14650 Glenda Dr.
Apple Valley, MN 55124
(952) 884-2412
[email protected]
Open M-F 9AM to 5:30PM
Saturday 10AM to 2PM
Astound Coon Rapids
363 Coon Rapids Blvd. NW
Coon Rapids, MN 55433
(763) 278-6863
[email protected]
Open M-F 9AM to 5:30PM
Saturday 10AM to 2PM